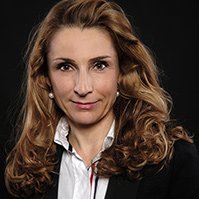 JUDr. Kateřina Kašparová, Attorney
Education
In 1998 she graduated from the Faculty of Law of the University of West Bohemia in Plzeň. During her studies she completed an intensive course in European Law at the Nicolaus Copernicus University in Toruń, Poland. She spent her final year of high school, including her final exams, in the United States of America. 
In 2011 she defended her doctoral thesis on the theme of "The selected problems of the concept of State aid regulation" at the Faculty of Law of Charles University in Prague. 
Membership
She has been registered in the Czech Bar Association's list of attorneys since 2003. 
Previous work experience 
Kateřina Kašparová worked as a Junior Attorney in the Kříž and Bělina law firm from 1999 to 2003, when she successfully completed her bar exams. From 2003 until 2008 she worked in this law firm as a Cooperating Attorney and she participated in many projects to provide legal services to the Czech state or to important Czech companies, e.g. ČEZ, a.s. (significant acquisitions), SAZKA, a.s. (long-term process of settlement with a foreign partner and significant acquisitions), FNM ČR (privatisation process), etc. In 2007 she worked as an external instructor of the subject "Basics of Law" in the English language for foreign students at the College of Tourism, Hotel and Spa Management. Since 2008 she has been working as an independent attorney. 
Focus 
Kateřina Kašparová is primarily involved in Civil, Commercial and Administrative law and, in the framework of European law, Public Support Law. She has extensive experience from participation in the important due diligence of Czech and foreign companies, the process of concluding or reviewing contractual documentation, participation in transactions concerning he acquisition of a market share in a Czech or foreign company, including the privatisation process, the representation of important Czech companies when settling the contractual relations with their foreign partners, and the representation of foreign clients in the Czech Republic. Last, but not least, Kateřina Kašparová also has considerable experience in the collection of debts from loan agreements and their recovery.  
Specialisation 
Civil Law, Real Estate
Corporate Law
Insolvency

Litigation

 

Administrative Law
Public Support Law